Congressional Art Competition
Each spring, a nationwide high school art competition is sponsored by the members of the U.S. House of Representatives. The Artistic Discovery Contest is an opportunity to recognize and encourage the artistic talent in the nation, as well as in our congressional district. The Congressional Art Competition began in 1982 to provide an opportunity for members of Congress to encourage and recognize the artistic talents of their young constituents. Since then, over 650,000 high school students have been involved with the nationwide competition. For more information about the 2019 Congressional Art Competition, please visit the official Congressional Art Competition page.


The Artistic Discovery Contest is open to all high school students in the District. The over-all winner of our district's competition will be displayed for one year in the U.S. Capitol. The exhibit in Washington will also include artwork from other contest winners nation-wide.

Art entered in the contest may be up to 26"€ x 26"€ and 4"€ deep (with frame if winner). The artwork may be:
Paintings - including oil, acrylics, and watercolor
Drawings - including pastels, colored pencil, pencil, charcoal, ink, and markers
Collage
Prints - including lithographs, silkscreen, and block prints
Mixed Media
Computer Generated Art
Photography
All entries must be an original in concept, design and execution.

Important dates:

April 11: Deadline for art submissions

Submissions will be on display at Farmington City Hall Boardroom.
April 22: Award ceremony from 5:00 p.m. to 6:00 p.m. at the W.O. Benjamin Fine Arts Building on the Itawamba Community College Campus in Fulton.

Contact information:

Artwork must be submitted to one of my district offices by April 11, 2019. Please call Melinda Whited in the Farmington District Office at (662) 687-1525 to set up an appointment to drop off artwork. Operating hours are Monday-Friday from 8:00 a.m. to 5:00 p.m. Please call Melinda Whited before delivering artwork to coordinate time and location.

Last year's artwork from Mississippi's First District winner Helen Peng is among those included in the U.S. Capitol exhibit.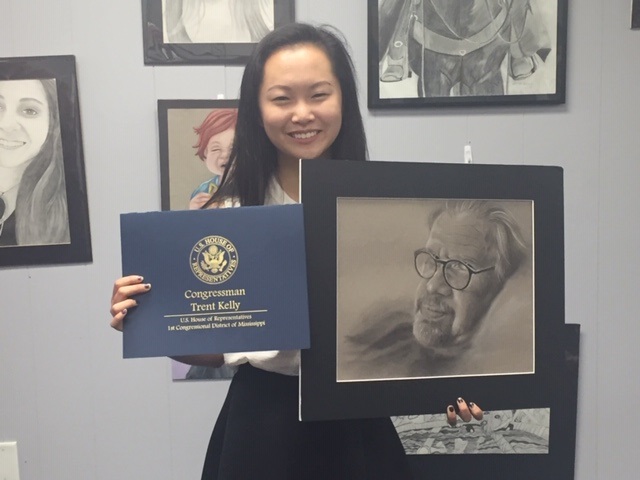 Helen Peng, 2018 First Place Winner
If you would like more information on the annual Congressional Art Competition, please submit the following form.